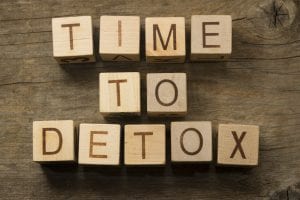 A poor long-term diet is both harmful to your health and difficult to quit. Our bodies become conditioned to crave food that is bad for us because of the addictive high-sugar contents of most diets. Most people have lived with their processed diet for so long that they have come to accept the negative health consequences as a part of their lives. The truth is that your bad diet is shortening your life and preventing you from losing weight. A medically assisted diet detox is designed to help purify the body to kickstart any weight-loss program and improve your health.
What Is a Medically Assisted Diet Detox?
You may have heard of a food detox before; juicing is a commonly practiced detox method. However, many patients attempt to perform a detox on their own, which is often both unsafe and ineffective. A detox is designed to provide a break for the body and help flush out the buildup of toxins such as processed food, sugar, alcohol, caffeine, cigarette smoke, and air pollution. A detox diet can include a number of techniques, including cutting out all bad food, following short-term liquid diets, or using supplements to help cleanse the body.
Undergoing a detox without the guidance of a medical professional can be dangerous. Dr. Cristy Thomas, DNP, FNP-BC, APRN monitors and guides all of her detox patients. Her role is to provide a custom detox plan that best suits your current health and lifestyle. She ensures that your detox will provide you with the necessary nutrients to maintain a healthy body while you gain the cleansing benefits of the detox.
How Does a Poor Diet Affect Your Health?
Many people are living on highly processed diets that have an excess of added sugars and unhealthy fats. For many, this diet and its consequences are so normal that they don't realize the negative impact it is having on their health. People with poor diets often suffer from chronic health conditions, such as:
Weight gain/obesity
High blood pressure
Diabetes
Heart disease
Fatigue
Depression
Sexual dysfunction
Your Medical Detox
Dr. Cristy Thomas, DNP, FNP-BC, APRN will customize your detox plan to fit your health needs and lifestyle. Each detox plan uses science-based nutrition to craft a plan based on your genetic profile. A combination of diet changes and supplements is used to purify your body of sugar, caffeine, alcohol, and other toxins. Depending on your needs, your detox can last several days or several weeks. Following your detox, Cristy will provide you with a nutrition plan to help you lose weight and to maintain your cleaner body.
If you are struggling with the side effects of a poor diet, schedule your consultation with Dr. Thomas DNP, FNP-BC, APRN today. Contact our office at (702) 660-4968 or fill out our online contact form for additional information.