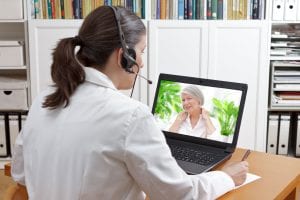 Hectic schedules can be very stressful, leading to fewer appointments with your primary care provider due to a lack of time or energy. Luckily, telemedicine has become available for patients 18 years and older to enjoy the convenience of live video consultations and follow-up appointments. Through telecommunication and information technology, clinical health care can now be provided to patients at almost any location.  Transportation is not required when telemedical is offered, allowing improved access to medical services for patients who have limited availability or access to transit.
Benefits
Our video consultations can help us provide health care evaluations, diagnoses, and treatment plans. This accessible program is convenient, saves time, and is an effective alternative to in-office visits. As a practical approach to medical care, telemedical can also save patients money. The most common uses for telemedical include follow-up visits, monitoring of long-term conditions, post-surgical or hospitalization care, medication management, preventative care support, consultations, and other clinical services provided remotely through a safe, secure video and audio connection. Patients can enjoy:
Less time off from work or other obligations
No travel time or associated expenses
Reduced interference with childcare or other responsibilities
Ensured privacy and safety through HIPAA compliant systems
Eliminated exposure to the elements or potentially contagious patients
Increased efficiency
Better follow-through and health outcomes
Process
Our platform is HIPAA compliant. Patients can enter their symptoms and health goals, record video sessions, attend secure appointments remotely through their video connection, and securely access lab results and other important information. Services such as Skype are not HIPAA compliant. Insurance and discounts can still be applied, similar to face-to-face appointments, without the hassle of meeting in person. If your condition is critical, you must still see a doctor, but telemedicine allows efficient access for patients who travel for business, work night or swing-shifts, live in rural areas, and other similar situations.