Ketogenic Diet in Las Vegas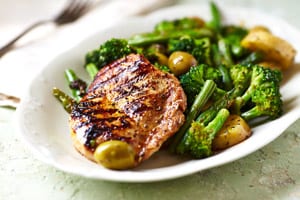 There are too many diet myths out there, and if you haven't seen any weight-loss results, you may have fallen victim to one. Understanding how food affects your weight is the first step towards shedding those unwanted pounds.
Trouble Losing Weight?
Have you been counting your calories but still see no difference on the scale? Do you have less energy but not less belly fat? Is your muscle mass shrinking but not your thighs? Your problem may be that you believed the myth of counting calories, one of the biggest myths in the diet community.
Weight gain and loss isn't primarily affected by the number of calories you consume but rather what form those calories come in. Weight gain is caused by high blood glucose levels, which is caused by an overconsumption of sugar. Even though you might have cut out sugary foods like desserts, candy, and white bread, you may be consuming a massive amount of hidden sugar on a regular basis.
Carbohydrates
Carbs exist in more foods than just your dinner rolls. Consuming these hidden carbs is likely affecting your ability to lose weight. Even "healthy" carbs are converted into glucose during digestion. Commonly consumed carbohydrates include:
Whole-wheat bread
Potatoes
Fruits, such as apples, pears, bananas, and grapes
Yogurt
Beans
What Is a Ketogenic Diet?
Ketogenic diets were originally developed for children suffering from epilepsy, but these diets soon proved to be the key to weight loss. Ketogenic diets focus on eliminating carbohydrates from your diet. Instead of burning carbs for energy, you get your energy supply from proteins and healthy fats. Any minimal carb intake comes in the form of fibrous vegetables. The goal of a ketogenic diet is to reach a metabolic state called ketosis.
Ketosis
Reaching ketosis is ideal for people looking to burn fat. When your metabolic state reaches ketosis, your body begins breaking down fat stores for energy. Ketosis can only occur when there are low insulin levels in the blood, which occurs when there are low blood glucose levels.
Ketogenic Diet Breakdown
Contrary to popular belief, eating (healthy) fats is the key to weight loss. Fats have almost no effect on blood glucose and insulin levels. Instead, they are broken down and used as an immediate source of energy. Healthy fats should make up the bulk of your diet. Healthy fats include:
Olive oil
Avocados
Olives
Flaxseed
Fatty fish
Nuts (almonds, peanuts, cashews, pecans, walnuts)
Beef
Pork
Chicken
In a ketogenic diet, proteins are consumed in the second largest quantity. Proteins help ensure that your body is building muscle. They are also a good source of energy. However, the digestion of protein does result in glucose, so it is important to eat moderate levels of protein to prevent your blood glucose levels from rising. Proteins you should be eating include:
Chicken
Whole eggs
Salmon
Turkey
Minimal carbs are eaten in a ketogenic diet. It is unhealthy to completely cut out carbs because your brain needs some glucose to function normally. The carbs you do consume should be in the form of fibrous, nutrient-packed vegetables and dairy. Some carbs you can include in your diet are:
Cheese
Green and black olives
Spinach
Lettuce
Mushrooms
Artichokes
Broccoli
Bell peppers
Green beans
Brussel sprouts
Pumpkin
Tomatoes
Other Benefits of a Ketogenic Diet
A ketogenic diet has a wide variety of benefits other than weight loss. Many patients find that following a ketogenic diet changes the way they feel day to day. You may find that you have more energy, increased mental clarity, increased focus, strength gain, a better mood, less inflammation and joint pain, better gut health, and clearer skin.
Seeking a Medical Professional
A ketogenic diet significantly alters the regular environment of your body. This diet should not be tried without the guidance of a medical professional. At Vitality Medical & Wellness Center, we have a staff of trained professionals to help you develop a ketogenic diet for your lifestyle. Our diet plans ensure that you are consuming nutrient-rich foods with the right calorie intake to maintain your body's function. Without proper guidance, many people suffer from malnutrition during their weight-loss journey. Click here for more information on malnutrition and weight loss.
Products to Help With Your Weight Loss
To work in conjunction with your guided ketogenic diet, we offer a variety of supplements and aids to help you on your weight-loss journey. These products can be a great way to kick off your diet or help ensure that you are receiving the proper nutrients.
Keto-OS
Vita Fuel
Vita Nac
Vita l-Carnitine
L-Carnitine
Nac
To see if a ketogenic diet is the key to your weight loss, schedule a consultation at Vitality Medical & Wellness Center today. Contact us at (702) 731-1200, or fill out our online contact form here for more information.